Full conference program released!
The program for Velo-city Global Adelaide 2014 is now live! It has an exciting mix of key note speakers, concurrent session topics involving more than 170 presenters, social activities, tours and workshops.
Click the 'program' button for all the details.

'Master of cycling and ceremonies in Adelaide' Introducing Velo-city Global Adelaide 2014 MC Adam Spencer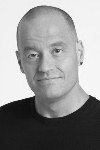 Velo-city Global Adelaide 2014 is delighted to announce that fellow bike enthusiast, comedian, radio host, mathematician and author Adam Spencer will be our master of ceremonies at Velo-city Global conference at Adelaide Convention Centre Tuesday 27 until Friday 30 May 2014.
Adam dreams of a world where cyclists can ride their bikes where they want, when they want, safely and free of aggression and intimidation. His intellect, incisive wit and warmth will undoubtedly enrich delegates' experience of the conference.
Adam began his career in radio by winning the Triple J Raw Comedy championship in 1996. From there, Adam took over the Triple J breakfast time slot, co hosting with Wil Anderson from 1999 to 2004. From 2006 to 2013 Adam was the host of the coveted ABC 702 radio slot Breakfast Show with Adam Spencer.

Adam holds a first class honors degree in pure mathematics and has an immense interest in science. These passions lead Adam to hosting ABC programs Quantum and FAQ from 1998 to 2001. Other TV credits include hosting Hit & Run for Foxtel's Comedy Channel, Joker Poker for Channel Ten, two series of Sleek Geeks with Dr Karl Kruszelnicki for ABC TV and team captain on ABC TV's sports show The Trophy Room.

Adam's Little Book of Numbers, published by Penguin, has been translated into many languages around the world, with the second book due for release in early 2014.

More than just a conference....
Velo-city is the world's premier international cycling planning conference. The four day event offers delegates from around the world a chance to share best practices for creating and sustaining cycling-friendly cities, where bicycles are valued as part of daily transport and recreation.
Velo-city Global Adelaide 2014 Partners