> Download a map of the Adelaide Convention Centre
Adelaide Convention Centre

The multi-award winning Adelaide Convention Centre has put Adelaide on the map as one of the world's best destinations for conferences and exhibitions with a global reputation for excellence. The Centre is consistently ranked among the world's top convention centres for superior product, world-class facilities, and constant maintenance of already exceptional standards.

It stages everything from national and international conferences and exhibitions to cocktail parties, major outdoor events, launches, breakfasts, banquets board meetings and more.

Located in the heart of the city, on the banks of the River Torrens, and a key part of the revitalised Riverbank precinct, the Centre boasts beautiful views of parklands and skyline through a stunning curved façade several storeys high. The precinct has become popular with local cyclists who regularly use the dedicated bike path along the river's linear park, in front of the Centre.

The Centre also backs onto North Terrace, Adelaide's cultural precinct, and home to major international hotels - Intercontinental, Stamford Plaza and Sebel, all just two minutes' walk from the Centre.

To ensure delegates can remain productive whilst on location, our well-equipped Business Centre is open daily for use during events. The Centre also offers free Wi-Fi to ensure delegates remain connected at all times. Customer relations staff are always on hand to assist with any last minute requests. Regattas Bistro + Bar offers a casual dining experience with a million dollar view, right on the waterfront.

The Centre is also a regular hub for the free Adelaide City Bike service with delegates able to pick up a bike and cycle around the city at their leisure.

To learn more about the Adelaide Convention Centre's sustainability and corporate social responsibility practices click here.

For more information visit www.adelaidecc.com.au
> Download SUSTAINABILITY AT THE ADELAIDE CONVENTION CENTRE

Adelaide Convention Centre
North Terrace, Adelaide
South Australia 5000
Phone: +61 (0) 8 8212 4099
Fax: +61 (0) 8 8212 5101
Website: www.adelaidecc.com.au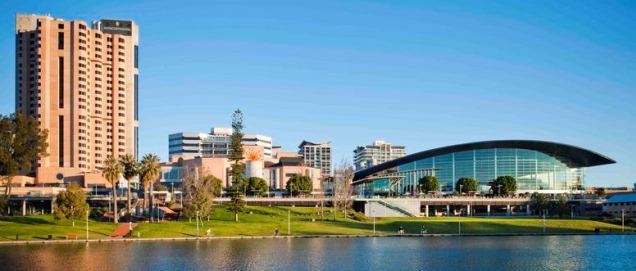 Adelaide Town Hall
The last day of the conference will be held at the Adelaide Town Hall, a landmark heritage building steeped in history yet graced with every modern amenity. Its magnificent architecture and elegant interiors will provide the perfect backdrop for our final keynote address, closing ceremony and the official handover to Nantes, the city to host Velo-city in 2015.
128 King William Street
Adelaide SA 5000
P. +61 8 8203 7590
E.
W: www.adelaidetownhall.com.au