Sustainability at the Adelaide Convention Centre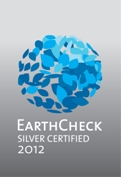 The Adelaide Convention Centre's mantra is "Gold Service. Green Attitude." Our environmental policy has become a natural part of our daily decision making and we see our commitment as a vital part of our corporate and social responsibility.
Since mid-2007 we have virtually eliminated organic waste going to landfill and we are aiming to reuse and recycle at least 90% of event waste. Our Biobin composting system has resulted in 358 tonnes of organic waste being recycled and returned to the soil as fertilizer since mid-2006. Since mid-2008 our team of worms have consumed over 19,452 tonnes of organic waste.
Through the Adelaide Convention Centre's partnership with OzHarvest, we donate quality leftover food for the organisation to collect and distribute to those in need. In total the Adelaide Convention Centre has contributed 11,490kg of good food, equal to 38,074 meals.
By diverting this food from landfill we have helped our environment by saving 18,384 kg CO2-eq greenhouse gases and 1,643,070 litres of water. The Adelaide Convention Centre's support of OzHarvest SA contributes toward the OzHarvest vision: rescuing surplus food to feed people in need and help the environment.
We also partner with FoodbankSA, a not-for-profit organisation which coordinates the donation of food and groceries to welfare organisations around South Australia. Since the beginning of our partnership in mid-2009, we have donated 54,325 individual meals to Foodbank SA.
The Adelaide Convention Centre's commitment to water conservation includes installation of water-saving fixtures (saving hundreds of litres of water for every hour of use), the use of urinal water savers (saving over 1.3 million litres of water a year), the use of water tanks and the introduction of water-wise landscaping.
The Adelaide Convention Centre offers sustainable meeting packages which allow event and function organisers to calculate the carbon footprint of their event and offset the emissions. Through the Centre's partnership with Trees for Life we can offset the emissions through the retirement of Voluntary Carbon Units plus the planting of native trees and shrubs.
The centre's contributions are made daily or weekly, depending on what goes on at the centre and statistics are updated every month in their 'Gold Service. Green Attitude' flyer.
To learn more about the Adelaide Convention Centre's sustainability and corporate social responsibility practices please visit their website at www.adelaidecc.com.au.