Velo Exchange is the key networking hub for delegates, exhibitors and sponsors at the Adelaide Convention Centre during Velo-city Global Adelaide 2014.
Morning and afternoon teas and lunches are served in Velo Exchange, with a program that includes presentations at each break time in the 'think tank'. Exhibitors are located in Velo Exchange along with booths hosted by some of our key sponsors and partners. Dedicated networking areas and a special message board are there to help delegates connect with each other. Smart boards will display the latest conference photographs and outcomes from Learnshop sessions.
Special features of Velo Exchange include:
Aboriginal artist Paul Herzich 'in residence' creating a uniquely Kaurna landscape that will reflect the development, growth and spirit emerging from the life of the conference

A retail outlet operated by Tandanya Gallery Shop, for purchase from a comprehensive range of authentic Aboriginal and Torres Strait Islander art, craft, books, clothing, fabric, music and yidakis (didgeridoo) for take home souvenirs and gifts.
Artist in residence Paul Herzich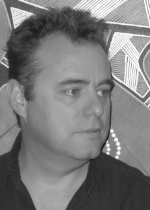 Paul is an Ngarrindjeri/Kaurna man who is an Adelaide based Aboriginal landscape architect and visual artist.

In 2010, Paul received the NAIDOC SA 'Artist of the Year' Award, and in 2007 the South Australian Premier's Award for 'Outstanding Individual Performance in a Workgroup – Landscapes that Integrate Aboriginal Culture'.

Paul has quite a collection of artworks in various mediums located across the South Australian landscape. In 2013; he presented his departmental works at the 50th International Federation of Landscape Architects World Congress in New Zealand and he also held his first major art exhibition as part of the 2013 South Australian Living Artist's (SALA) Festival at the Tandanya National Aboriginal Cultural Institute in Adelaide.
Velo-exchange progran now available!
| | |
| --- | --- |
| Anna Meares | Tina McCarthy |
| | |
Tuesday 27 May 2014
1240-1300

Interactive bicycle routing with Google-glass Peter Eich

Peter Eich brings his latest project to Velo-city Global Adelaide!

1535-1545

ECO-COUNTER

Automatic Bike/Ped Data Traffic Data Collection


Many cities around the world are using pedestrian and cyclist data to help in the planning and decision-making process and to promote active living. This presentation will highlight some of the best practices from around the world. World leader in the field of automatic data collection, Eco-Counter provides solutions for counting pedestrians and cyclists in urban and natural environments

Wednesday 28 May 2014
1115-1125

Bicycle SA

Building a picture of bicycle transport corridors from user generated travel data.

Like most car dominated cities, Adelaide's road network is a sprawling series of arterial and non-arterial (quiet local streets) roads. The challenge for transport planners is getting accurate, real-time travel data that builds a picture of where bicycles are travelling, how often, for how long and potentially why. While there is ample technology (mobile apps) that allows users to log their rides, the challenge is more about how to recruit, engage and reward participants to contribute to a long term personal travel behaviour program.

This Think Tank sees to draw out the behaviour triggers that can be used to develop an effective engagement program that will be piloted in Adelaide.

1340-1400

Wheel Women Ride! Tina McCarthy


Hear how 'Wheel Women' has successfully generated behaviour change to get more women riding bikes. And be inspired by Tina McCarthy's story…
'Wheel Women' has been running for just over a year, and in that short space of time has managed to engage hundreds of women across Australia (and the world) with their approach. So what is it that they have done to change the way women feel about riding? What's resonating with so many women to get them back on their bikes?


Tina McCarthy is a Level 1 AustCycle Coach and recipient of Cycling Victoria's Women of Change Award. In recognition of her work, Wheel Women has won the Department of Community Sport and Recreation's Welcome & Inclusive Award. Tina had spent the best part of 25 years as a designer until Wheel Women took over her life. Realising the joys of cycling a little later in life Tina set about creating a place where all women feel welcome on their bikes after she realised that she was not alone in feeling a little intimidated by the 'cycling world'. She quit her design job, set up a riding group and is now coaching and engaging women across Australia in the joys and freedom a bike can bring.

1555-1605

Leda Security Products Tom Rozsa


Innovative images relating to bike storage including End of Journey Facilities and Bike Repair Stations and bicycle racking.


Thursday 29 May 2014
1045-1055

Cyclehoop

1310-1330

An interview …Anna Meares

Ten time world champion and dual Olympic champion cyclist, Anna Meares has teamed-up with the Motor Accident Commission (MAC) to promote cycling safety.

Anna is the ambassador for the Be Safe, Be Seen cycling road safety campaign, which aims to promote a safer mind-set amongst riders and motorists - through the education pillars Be Aware, Be Seen and Drive Safe.


With a wealth of knowledge and experience to share, hear Anna speak about her incredible career as an elite cyclist and her commitment to improving rider safety as MAC's ambassador for safer cycling.
Anna will be interviewed by Adelaide radio and television personality Keith Conlon.

1540-1550

Continuing the momentum of Velo-City down under with 'Bike Futures' Craig Richards


How do you keep the great energy going from Velo-City? Get along to the 5th annual Bike Futures Conference. Come and hear how In October the Australian bike industry will come together to nut out how to build healthy communities with bikes at the forefront.

Craig Richards is the Chief Executive Officer of Bicycle Network.